BOYS AGE
One genre that is silently taking over the indie rock scene is a distinct woozy and laidback, lo-fi, psychedelic, and jazzy rock. Something so reassuringly, infectiously listenable. An entire genre centred around the desire for imperfections in the recording to achieve a detailed and unique personality in sound. Micro details in the mix, often intentional and sometimes accidental; a subtle record crackle, a tone that's slightly off-pitch, a tinny sounding drum groove that loses rhythm every now and then, use of old sampling machines over subtle record crackles and static hiss. Nothing too noticeable – but it all adds up to the lo-fi feel, cleverly inducing a relaxed and nostalgic notion. I speak of artists like Mild High Club, Mac DeMarco, infinite bisous… they all cherish a DIY approach – you listen and are immediately teleported to the bedroom or garage they recorded it in.
Japanese band Boys Age proudly headlines this genre. Not only is Kaz supportive of this easy going attitude, but has also attracted many fans from overseas. When playing live, Kaz is the frontman of a medley of friendly and eccentric songs, with Takamasa Kobayashi providing energetic rhythms on drums.
Romance Planet is a 44 minute-long string of stoner vibes and tropical, loosey tunes. In terms of the mood, this new album is the most chilled out of Boys Age's so far. Kaznary makes his signature move and adds his deep, quiet and idle sounding voice just under the surface of the instrumentals. On the record, each album notably accommodates a different feel with a different dynamic. To achieve a distinct sound for each release is almost exponentially more and more difficult in a such a narrow genre such as this. Top picks on the album are Interstellar Flight, a song driven by it's rocket-like rhythm and Water World, featuring retro, spaced out synths, a multitude of guitars drenched in chorus pedals and drum grooves a phone call away.
The beauty of the modern age is how close the world of art and music is stitched together, thanks to platforms like Soundcloud, Twitter, and YouTube. Getting into contact with Kaznary was easier than I thought it would be. Kaz more than celebrates the close, woven world of the web – he is an internet geek, loves music, video games, art, poetry, novella. By sharing his music on social media, alongside internet algorithms and his good marketing strategies appealing to mostly young, some may even say "edgy" underground music fans, Boys Age has attracted a significant following.
I interviewed Kaz via email – although many readers will find a clear language barrier in the interview, in some ways this may be confused with the complex and hard-hitting ideas Kaznary puts across.

Boys Age is: Kaznary Mutow and Takamasa Kobayashi.
Who are some artists or bands that you'd like to give credit to as inspirations?
"Yo La Tengo, Van Dyke Parks, and Television. Absolutely Impossible to remove their music from my life. Ah, recently I often listen to songs of some young musicians, especially bands signed to one of my favourite labels, Human Sounds Records, based in Canada."
Are there any underrated Japanese bands or artists you want to recommend for people to listen to?
"Haha, yeah it's a serious problem. Of course there are some good musicians in Japan. For example I love 図書館(toshokan: library), who are a very nice band, but most bands are not a big deal. There are just so many deteriorated copies of bands of Western countries. Often everyone misunderstands, Japan is a musically third world country. Just about twenty years ago there was money. Japan has never been on a national level to lead the world with music. Many people think that coming to Japan is the entrance to success. There is no such thing. I don't even have enough money to go to the hospital.
Neither money nor future, here is nothing."
What is your goal for Boys Age? To eventually tour the world or to continue pumping out singles for fun? 
"I would like to go to various countries. And I want to play there. We'll need lots of money and connection. If I were to set a goal, I would just sing and live.
This is a manga line, but 'I want to live like a plant calmly'.
I'll continue to travel on in this universe till the end while believing there's something that I can believe somewhere. The endless journey is the real goal."
What is the favourite memory from any of your gigs? 
"A few years ago there was an event with the Embassy of Spain and we played on front of many Spaniards, that was very nice night. They were very passionate and enjoyed the music in six senses."
I have found that listening to your music, most notably your album The Odyssey reminded me very much of Mac DeMarco's album Rock n Roll Night Club. In a good way!
"You're talking about the song 'Postcards Holiday', right? Aha, I was rather confused because nobody mentioned much ever. In the first place, that album was my first compilation album of releases. Everyone is misunderstanding. Of course I'm REALLY glad that so many people liked the album and songs. But PLEASE also listen to the original albums. Those are really nice. Indeed I like Mac DeMarco's music. But I REALLY REALLY want to say, it is a coincidence. But, well, It might be fateful…maybe!"
I have heard you are into gaming. Do you have any other hobbies as well? 

"Ahaha, ya, indeed I like video games, but I'm not a game geek. I enjoy art, movies, comics, novels, poetry, drawing… ART is something that man has always had since birth. It is one of a few of virtues of the human as an organism. Art is proof of what humanity has noticed about the world."
Do you have any other projects planned, music or non music related?
"I have another musical project called Black Opal that I started for healing music, and also drawing and comics. Recently I started to write novella. I hope I can do various things. Make a soundtrack for a movie or a video game, draw the artwork, collaborate with fashion, I want to know how far my universe is spreading."
Kaznary Mutow, thank you. Is there anything else you would like to say?
"Music is about finding signs for everything in the world."
Listen to Romance Planet now: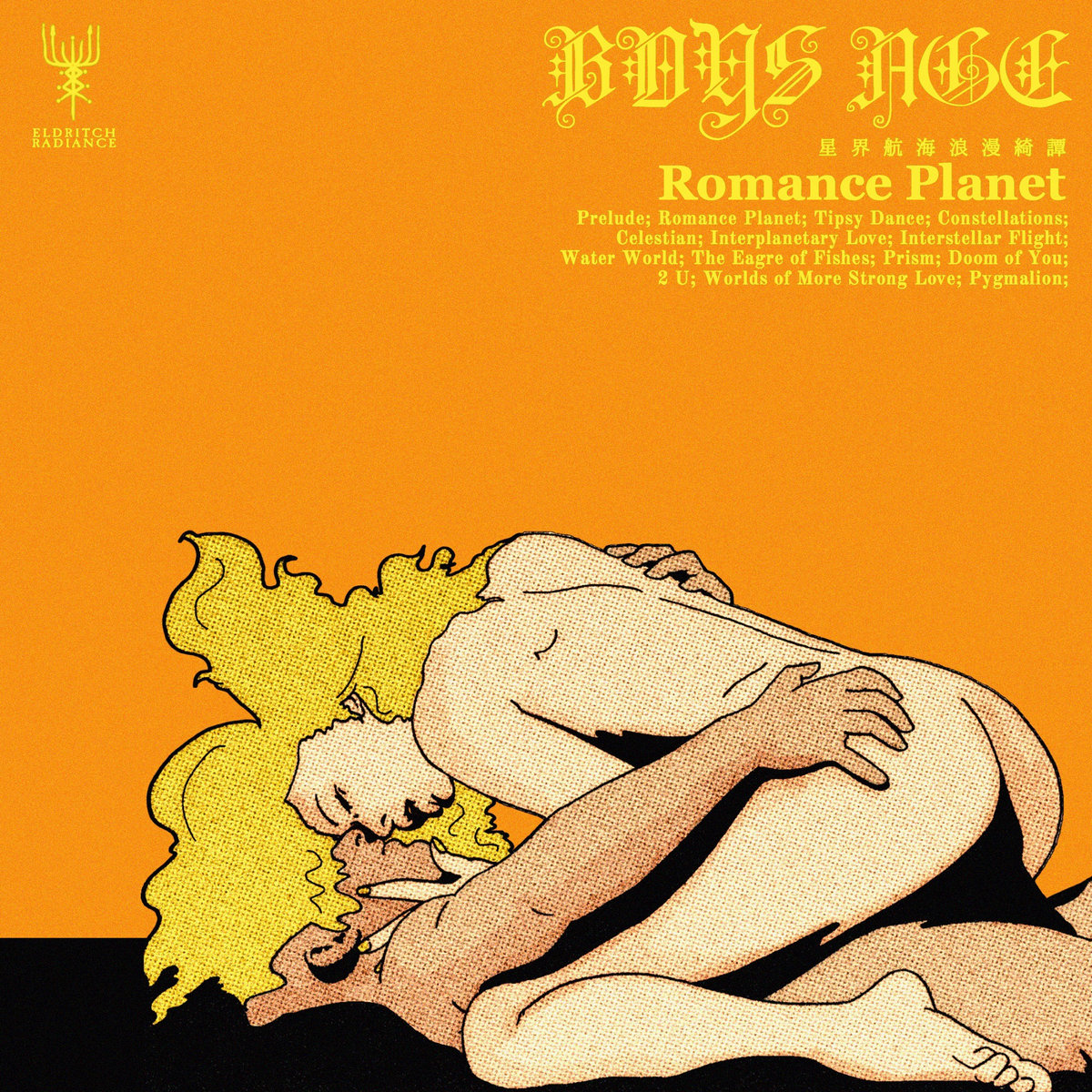 Photography credit: Kaznary Mutow